Welcome to Saving Money Plan! If you're new, you may want to subscribe for free email updates or sign up for my RSS feed. Thanks for visiting!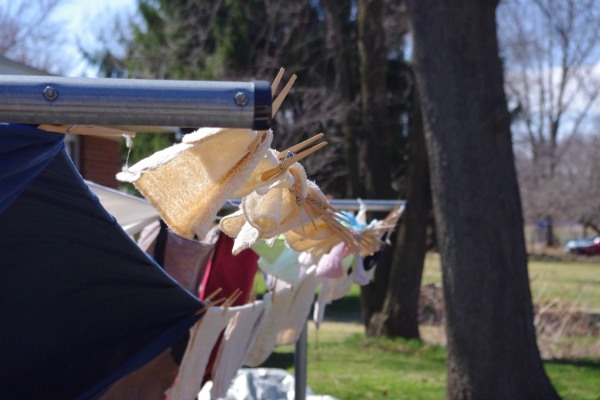 As I said in my previous article, my main method of saving money is to simply do things myself the old-fashioned way. For us, it all starts at home. So I'd like to introduce a series to you titled Saving At Home, in which I share some tips for saving money on everyday things from laundry to cooking to cleaning.
Let's face it, laundry is never-ending no matter what your home looks like. We all have to do it, whether we like it or not.
So why not try to do it as cheaply as possible? Here are five tips I came up with for you to save on this whole process called laundry.
Make your own laundry soap.
The first place I read about this concept was a little site called The Family Homestead. She figured out that this laundry soap runs about $.01/load, which I calculated to be about 1/10th of the cost of the laundry detergent I was once using. I have used her recipe off and on for years and besides changing the type of soap used, I think it is fantastic.
One other option that some folks have raved about is an interesting little fruit of a tree called soap nuts. These little guys are great if you are interested in sustainability and having a natural washing alternative to harsh detergents.
Skip the dryer sheets.
When I was in college I always used drier sheets. When we got married and pinching pennies was important I simply stopped buying them. I found that it didn't make much of a difference in the static-cling department and I kind of liked not having such a heavily-perfumed basket of laundry.
Another great option, if you are worried about having softer laundry, is a dryer ball.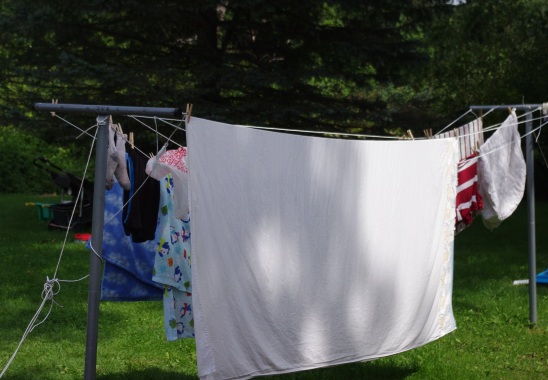 Minimize your dirty clothes pile.
I thought I had done this before we moved off-grid, but since having to wash laundry by hand I have really, truly pared down the amount of clothes that cycle through our family. We each have 1-2 sets of pajamas, 2 sets of work clothes, 1 set of nice clothes, and unlimited amounts of underwear and socks.
We then cycle through these, changing into our nice clothes for important events and changing back into work clothes as soon as we return home. We are conditioned to think that wearing clothes once is "clean", but this is fairly new in history.
Use a clothesline.
My favorite way to save money on laundry is to hang clothes out to dry. I love the feel and the smell of the dried laundry and the process is meditative and satisfying. According to this article, you can save up to $.45/load by simply hanging your laundry on a clothesline.
Seek out energy efficient appliances.
Right now I am washing our laundry by hand. It takes me about the same amount of time as it did when I was using our electric washer, but now that time is hands-on and I get my workout doing this weekly task rather than paying to go to the gym. This article also helps you count the cost when purchasing a washer or a dryer.
So that is how I save money on that constant task we call laundry. Do you have any tips to share?