Welcome to Saving Money Plan! If you're new, you may want to subscribe for free email updates or sign up for my RSS feed. Thanks for visiting!
Okay, I admit it… I've got a pot of beans on the stove right now… right next to a pot of rice. It's what you eat if you're on a budget, right? We eat beans and rice a couple of times per week, in some combination. We also eat a lot of other foods you might want to consider adding to your repertoire if you're pinching pennies.
Animal Foods
Bones. Yep, you can buy bones and make stock out of them. They are pretty cheap, and you can some times get them for free. If you simmer them for a long time with a splash of vinegar you can get a lot of minerals as well as protein sparing qualities out of them. That means if you cook your beans in that stock to make a soup you are getting a good, easy to assimilate amount of protein.
Organ Meats. Sigh, I know it sounds icky. The truth is, though, that liver and other organ meats have far more nutrients in them than meat. Eating liver once a week can save you some dough and give you a boost in the iron and B-vitamin department.
Bacon. This can seem really expensive, but a slice or two, when added to soups or those beans, adds a ton of flavor and a little boost of animal protein.
Eggs. This is one of the most perfect foods on the planet (if from healthy chickens), and can be found fairly inexpensively as well. Even if you're eating three of the highest quality eggs for breakfast or dinner you'll only be spending about $75. Keep your own chickens and you can bring that down even further.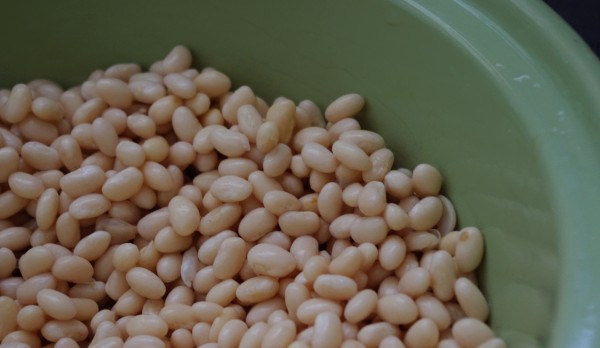 Vegetables
Cabbage. This is by far the cheapest cruciferous vegetable out there (that I know of). It is also really versatile. Use it as a side dish in buttered cabbage, ferment it into a long-keeping sauerkraut, or use it in place of a starch in a goulash or spaghetti dish.
Carrots. This root vegetable is usually amongst the cheapest in the produce section and can be eaten raw or cooked.
Turnips. Another super cheap vegetable that can be used in place of potatoes with a lot fewer carbs.
Starches
Potatoes. A couple of years ago I found organic potatoes from a local farmer for super cheap. The only catch? I had to buy a couple of bushels of them. Not a problem, even as a renter. We simply dug a hole and buried them, ala the root cellar method. Sweet potatoes are also a great option.
Rye. If you're interested in making homemade bread from scratch, you might want to consider using rye. About a year ago we were looking into purchasing some bulk grains for bread making. I was about to order some wheat when I saw that rye was just about half of the price of the wheat. That is huge if you're eating bread every day. (see resources)
Fats
Lard & Tallow. You can often times find these nutritious (yep, I said it) and delicious fats for cooking locally for a very low price. Ask a butcher if they have any of these available. Sometimes they'll even give the stuff away!
Rice and beans aren't a bad option either, of course, but these other ideas should add variety in flavor and nutrition so you can eat well on a budget.